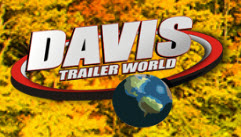 1640 Main Street, York, NY 14592-0260
585.538.6640  Click for website
Davis Trailer World – Your "Boots, Hats, & Jeans" Headquarters. Great selection of Cowboys Boots and Hats, Belt Buckles, Brand name Jeans and Outerwear. Sizes Small-2x  Not sure what to buy that special someone on your list?  How about a Davis Trailer World Gift Certificate.
Here are some of the services that we provide that are unique to DTW:
We complete the DMV paperwork to title and register your trailer in NYS. All you have to do is sign a few pieces of paper. We also issue the license plate and inspection for your new (or used) trailer.
Our fully staffed shop of 6 full time technicians and assistants are able to complete many additional options on your trailer in order to customize it to your specific needs and wants.
Some popular additions/options that are added to trailers include (but are not limited to):
E Track and other tie downs
Winches
Tongue Boxes
Spare tire & wheel and Spare tire mount
Cabinetry and shelving
Similarly, they can also install hitches, brake controllers, weight distribution systems and more on your towing vehicle.
Our technicians are thoroughly trained to check all parts of your trailer.
The list includes (but is not limited to in some cases):
Safety chains
Breakaway switch and cable
Brakes
Lug nuts (properly torqued)
Bearings
Tire pressure
Lights
Lubricate and check all moving parts (including doors, gates/ramps, windows, roof vents etc.)
Door lock (if applicable)
Paint and exterior
Deck boards/screws
Jack
Ramps
Interior lights
Coupler pin
Tires
They also mount your license plate and wash your trailer.
Before you leave with your trailer, one of our salespeople or shop technicians will assist you in hooking up your trailer to your towing vehicle. They will go over all of the regulations with you, including safety chains, brake-away cable, ball mount, coupler, tires (including pressure and lug nut) and more.
Photos: